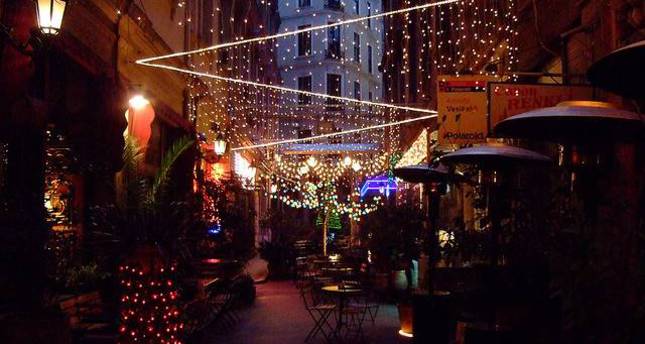 Christmas, the biggest holiday for Christians, is upon us. Celebrating this important holiday in Turkey.
On Thursday, Dec. 25th, along with its eve, festivities will take place all over the globe to celebrate Christmas, which commemorates the birth of Jesus Christ. Although this may be a time when expats yearn for a sense of home, friends and family, carols will be sung all over the world, presents gifted and wonderful feasts of turkey will be enjoyed this week.
If you are wondering how to make this holiday season truly special, Turkey's historical churches and stunning dining settings provide the perfect opportunity to celebrate this holiday amongst fellow foreigners from all over the world in Turkey.
Turks actually celebrate what they call "Noel" on New Year's Eve and also decorate trees and exchange gifts with love ones. In cosmopolitan areas especially, streets and shopping centers are decked out in stunning Christmas decorations and you may even spot a Santa or two. Although for the most part, Christmas is just a regular day here in Turkey, there are a number of events and Christmas Eve masses held in Turkey's historical churches and impressive restaurants that will make this holiday one to remember.
The largest Catholic Church in Istanbul is the Church of St. Anthony of Padua, more popularly known as St. Antoine and located right in the middle of Istiklal Caddesi. On Christmas, this church, which was first built in 1725 with the current building dating back to 1906, will be holding a mass in Turkish, Italian and English starting with Christmas hymns at 8:00 p.m. and moving on to rites at 9:00 p.m. There will also be a series of masses held on Christmas day starting at 10:00 a.m. in English, 10:30 a.m. in Polish, 11:30 a.m. in Italian and at 7:00 p.m. in Turkish.
Santa Maria Draperis Catholic Church is another special site rooted in history and located just a few meters away from St. Antoine on Istiklal Caddesi. Spanning back to 1584, this is the most ancient Roman Catholic parish in Istanbul with the current structure dating back to 1769. A Christmas Eve mass will be held on Wednesday at 8:00 p.m. while Christmas hymns and a Christmas Day mass will be held at 11:30 a.m. on Thursday.
The Church of Saints Peter and Paul, located near Galata Tower, was built between 1841 and 1843. Together with St. Antoine and Santa Mary Draperis, Saints Peter and Paul was one of Beyoglu's three Levantine parishes and also holds masses in Italian.
St. George is a Roman Catholic Church in Karakoy that was first built in 1303 and functioned as the main church for the French community. There will be a Christmas Eve mass at 11:00 p.m. and on Christmas Day at 10:00 a.m. Not to be confused with the St. George in Fener (Haghia Yorgi), which is the Greek Orthodox Patriarchate and the spiritual center for the Orthodox Community in Istanbul, Eyup, the patriarchate, will be holding a service in Greek at 4:30 p.m. on Wednesday and at 8:30 a.m. on Christmas day.
The Hagia Triada is a Greek Orthodox Church off Istiklal near Taksim, which was erected in 1880 and is considered to be the largest Greek Orthodox shrine in Istanbul today. Masses will be held in Greek on Dec. 24 and 25 at 8:00 a.m.
The Crimea Memorial Church, also known as Christ Church, is affiliated with the Church of England and located in Beyoglu near Tunel. Built on land donated by Sultan Abdulmecit, this church was constructed between 1858 and 1868 in memory of British soldiers who had participated in the Crimean War. There will be a service with Christmas carols in English on Christmas Eve at 7:00 p.m., while St. Helena's Chapel, located on the grounds of the British Consulate and Istanbul's second Anglican Church, will be holding a Christmas morning mass at 10:00 a.m. on Thursday.
The Union Church of Istanbul, also known as the Dutch Chapel in Tunel, will be holding a family mass in English and Turkish at 6:00 p.m. and a carols by candlelight service at 9:00 p.m. and 11:00 p.m. on Christmas Eve.
Sacré Cœur, a quaint church located in the upscale Bebek neighborhood, will be holding a Christmas Eve mass at 8:00 p.m. and a Christmas day mass at 11:30 a.m.
On the Asian side, a well-established tradition is to attend the late night Christmas Eve mass held at Assumption Church in Kadıkoy's Moda neighborhood, which is popular with expats. Usher in the holiday by attending a service at 10:00 p.m. on Christmas Eve or at 11:30 a.m. on Christmas day. Services will be held in Turkish, English and Latin.
Although Turkey's capital does not have the rich array of historical churches that dwell in Turkey's cultural center, the International Protestant Church of Ankara will be holding a service of songs and scripture in both English and Turkish on Dec. 24 at 7:00 p.m.
Source Daily Sabah