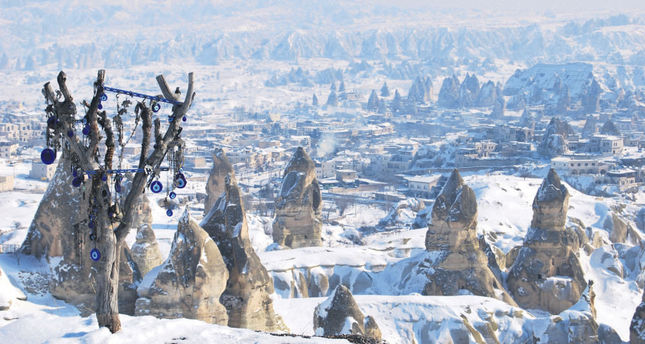 Here are some perfect destinations that range from thermal holidays and Mediterranean warmth to cozy winter holidays to recharge yourself in the New Year.
With more than 1,000 thermal springs reflecting the country's geological and historical beauty, Turkey provides a rich experience for those who are looking for some centuries-old relaxation and health benefits at the many thermal springs scattered across western Anatolia. Known as Hierapolis in Greek, Pamukkale – meaning cotton castle in Turkish – is seen as a gift of nature by those who visit. Pamukkale was included on UNESCO's World Heritage List in 1988 based on its natural and cultural wonders. Famous for its hot springs and travertines – terraces of carbonate minerals left by flowing waters – Pamukkale is located in western Turkey, and is perfect for those looking for a relaxing experience. There are dozens of remains from the ancient city of Hierapolis as well as Greek monuments around the city. There are also three different thermal regions – Saraykoy, Karahayit and Golemezli – that contain hot springs and mud baths. In Pamukkale, visitors can spend a day or just a few hours experiencing an organic treatment for skin problems as well as seeing the amazing travertine's that enable one to witness the kind of beauty that nature is able to create.
If you live around the Marmara region in northwestern Turkey, Yalova is the closest destination to Turkey's commercial and cultural capital of Istanbul, and it is generally preferred for weekend getaways. A one-hour ferry ride on the Sea of Marmara and a short taxi ride will take you to Yalova. Among all thermal resorts in the city, the most well-known is the Armutlu Thermal Hotel. This city's thermal springs are rich in minerals such as calcium, sulphates and fluorine, and it won the "Best Hot Spring with Beneficial Water" award at a competition held in Rome. The facilities available include drinking from mineral water springs, an open-air hot thermal swimming pool and Turkish saunas.
Like other thermal facilities, Yalova's hot springs are good for rheumatic diseases and arthritis. It is said that by drinking the water, one can prevent teeth decay and stomach and intestinal diseases. The healing elements of the springs have also been analyzed and endorsed by Istanbul University.

For those who want to enjoy a winter holiday with mesmerizing nature, Cappadocia represents the finest work of Mother Nature and a great way to witness the region's history. A place of natural beauty, Cappadocia has such a charming atmosphere that a one-day trip is never enough to enjoy all of its attractions. With its volcanic landscape offering gorgeous scenery and slick rocks with lush, green tracks and caves, tunnels and canyons waiting to be explored, Cappadocia is a paradise. Through wind and melting snow, the region has been carved out of volcanic rock over the centuries, and displays unique colours and shapes, such as the fairy chimneys. This magical region invites you to explore the heart of Anatolia with its historic remains, standing as some of the most renowned ancient natural wonders. Cappadocia is among one of the most visited destinations in Turkey, and is packed with local and foreign tourists even in the harshest season. The only way to understand why it is among the top-visited spots is to take a trip to this magical land.
The Cappadocia Cave Suites, located in the city of Goreme, is a perfect destination to feel as if you were living a fairy tale with natural beauties and cozy cave suites. A Turkish bath, sauna and rooftops to watch the Cappadocia landscape will make you feel like you are living in a dream.
Located in the northwest, Abant Yedigoller, meaning seven lakes, is one of the most renowned getaway spots. The Yedigoller National Park, is like heaven on earth with its beech, oak, mahogany, alder, elm and fir trees covering the land. You can find numerous hotels and camping sites in Abant to discover how summer's evergreen nature embraces the colours of fall. Abant makes you feel as though nature were a pastoral work of art, offering pure tranquility to its visitors.
During your stay in Abant, you can try various activities such as photography, painting, hiking, angling and lake fishing. To better experience nature's beauty, Yedigoller offers you amazing landmarks as well. So, if you want to enjoy silence and serenity during your stay, Yedigoller is ready to give you just that.
For those who want to experience Mediterranean beauty in the winter, a year-round destination located in the southern province of Antalya, Alanya is worth a visit.  In December and January – two of the coldest months of the year in Turkey – the daily temperature is between 10 C and 15 C. Yet, since the sun continues to shine throughout the day, the weather never feels too cold. Known for its beautiful beaches and naval structures leftover from Seljuk and Ottoman times, Alanya also houses many historic sites including the Church of St. George, the Red Tower and the Castle of Alanya.
As Turkey's third-largest city on the Aegean coast, Izmir is a renowned holiday resort with perfect water for swimming and hidden villages on the coast to relax in. Izmir features an array of marinas, hotels and restaurants as well as one of the country's most famous beaches. There are also little tourist spots only a drive away from the renowned holiday spot of Cesme. Among those spots, the most popular one is Alaçati, which you must visit for an unforgettable holiday experience. The small district of Urla is a perfect destination for those who are looking for serenity, but it is typically unknown to most foreign tourists. Another Izmir district, Selcuk, is a significant historical site to visit, especially its city of Ephesus. Ephesus – "Efes" in Turkish – is one of the ancient Greek cities in the region. Built in the 10th century B.C., the city was founded by the Attic and Ionian colonists. The Temple of Artemis in the city is the most well-known ancient remnant, since it is one of the Seven Wonders of the Ancient World. So, in order to experience this one of the seven wonders, a visit to Ephesus is a must. This ancient city was also home to one of the seven churches of Asia, as cited in the Book of Revelations. Along with the Temple of Artemis, the House of the Virgin Mary is another destination that makes Ephesus worth a visit, as it has been regarded since the 19th century as the place where she spent her final days.
Source:  Daily Sabah