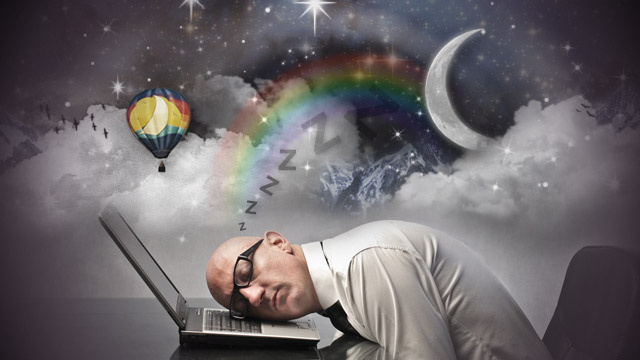 A research team from Bilkent University in Ankara has developed new software to display the images seen in dreams while sleeping or daydreaming.
Based on mind-reading strategies, a person's brain signals are recorded via magnetic resonance imaging (MRI), and the software uncovers the relationship between brain activity and more than 2,000 objects and actions Assistant Professor Tolga Cukur of the Department of Electrical and Electronic Engineering and the National Magnetic Resonance Research Center (UMRAM) told that their project, which is described as mind reading in science literature, based on displaying seen in dreams images via magnetic resonance imaging (MRI).
Supported by the TUBITAK and the European Union, the project has been conducted with nine post-graduate students and one doctoral student. Cukur said the study will continue with a larger team at a new research center, and said the construction of the Aysel Sabuncu Brain Research Center began last week.
Cukur said even basic daily processes, such as watching a film or communicating with people, are complex structures embodying various concrete and abstract components. In fact, researchers from all around the world conduct laboratory studies to understand such complex processes. The initial findings on mind reading were first publicized 10 years ago, but Cukur said current strategies are only first generation mind reading methods and are unable to define cognitive processes in our daily lives.The Turkish research team conducts a number of scientific studies to understand such processes. As Cukur said, MRI records brain signals, which are then patterned on a computer. The software constitutes new technology that can screen images of objects and actions seen in dreams. After brain signals are transferred to a computer, the images are used to reveal the relation between the activation of the brain and the information stored in images.

For the first stage, the team used MRI images of visual sense, which is the most comprehensive sense and covers more than 30 percent of the brain. "Subjects watch two hour-long videos screening images from various sources, while they are in an MRI. It records 50,000 activation zones in the brain. Then, we design models for each activation zone, where the brain creates stimuli while watching," Cukur continued.The software uses the visual features of almost 2,000 objects and actions, including women, men, children, humans, animals, plants, furniture, crying, walking and speaking. It analyzes brain reactions based on distinctive aspects, such as color, spatial location and contrast. Cukur said it is possible to screen the models of brain functions while daydreaming on the computer. The software also displays thoughts that flood while dreaming when asleep.

"The models we developed for visual perception interpret brain activations based on different categories. To study such images, brain activities are recorded using an MRI. We then create maps on which information is stored in the brain's different zones," Cukur said. He added that they differentiate how thousands of different objects are perceived in the brain at first. The second step includes the analysis of information stored in models. "We analyze the distribution of brain activity on different zones and understand the structural and semantic character of stimuli," he said.Cukur stressed the modeled images are highly similar with the real actions and objects that people see in dreams. "When we classify images according to their structural features such as color, we can easily identify what they are," he reiterated. Humans and other living creatures are represented in brain better than other objects; this is because it is a lot easier to identify them, Cukur expressed.

The measured models of cognitive processes allow researchers to formulate statistical criteria. Cukur said quantitative criteria on certain brain-related diseases such as Alzheimer's, dementia, autism, hyperactivity, schizophrenia and concentration loss, all of which impede information flow in the brain, are not sufficient. "To diagnose such diseases, physicians apply basic psychological tests. If we measure the distribution of brain activities in cognitive processes, then it will be a significant step in early diagnosis," he added.

UMRAM Director Ergin Atalar said the results of the study are highly commendable. "The study will open a door to not only understanding brain functions while dreaming, but discover how it works in general," he said. Atalar suggested the findings might enable them to come up with new learning strategies as well. "If we understand what we see in our dreams, then we can also gain more information about visual sense. Let's say, we can find another way for the visually impaired to receive information. It might be possible to activate visual sense without eyes," he said. Atalar believes more research will open new horizons in this field.
Source Daily Sabah