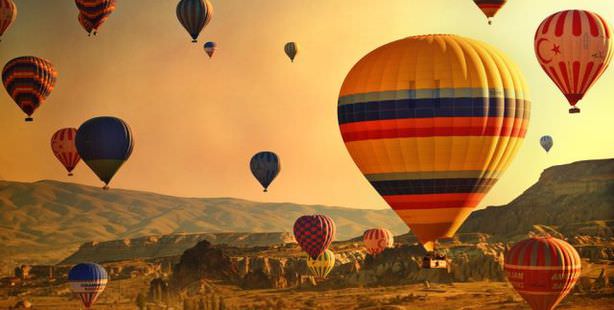 In 2013, 310,000 visitors enjoyed hot air ballooning over Cappadocia, a well-known Turkish tourist destination of unique underground cities carved into the rocks.
Cappadocia, located in the Anatolian province of Nevsehir, is famous for its spectacular geography of minaret-shaped sedimentary rocks, called peri bacaları, or 'fairy chimneys', formed by ancient volcano eruptions. The Nevsehir Representative of the Turkish Civil Aviation Directorate (SGHM) reported that the number of people taking hot air balloon rides increased from 235,000 in 2011 to 310,000 in 2013, with the number of balloons increasing to 220.
The region is one of the top three sites in the world for hot air ballooning, boasting excellent air conditions for flights. Balloons drift over the chimneys, houses carved into unique rock formations, and magnificent valleys. Hot air balloon tours can be arranged any time of year and cost approximately €110-130.
Tours are usually arranged two to three hours before sunset when winds are typically lighter, thus avoiding extreme air currents.

Cappadocia's main attraction is the relative lack of wind and the bird's eye view of breathtaking landscapes.
SGHM representative Sinan Cetinkaya stated that although hot air ballooning is one of the safest forms of flying, with the number of companies and clients steadily increasing stricter safety measures should be taken. In order to ensure safe and secure flights, SGHM has launched its Nevsehir Office in June 2013 and will be publishing more advanced and detailed regulations complimented by more regular inspections.

Some of the new regulations regarding hot air ballooning focus on limiting the number of passengers in a balloon. "In order to prevent overloading of the balloons above the maximum number allowed, we will determine the maximum capacity for each type of balloon and make sure that the number is visibly displayed on the balloon. Thus, the passengers would be able to see the capacity before they enter the balloon. In the past, balloon companies allowed up to 28 to 30 people on a single balloon, but with new regulations in place, the maximum number allowed will be 20," Cetinkaya said.