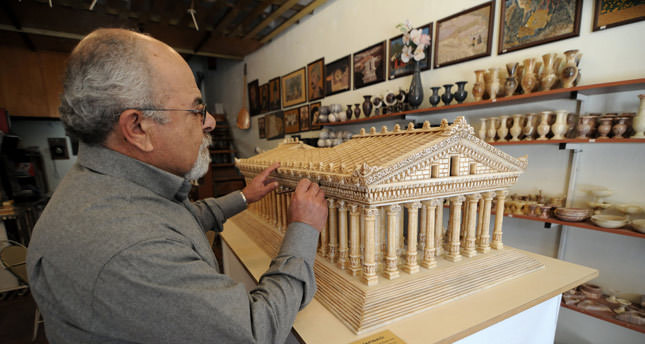 Dursun Koroglu, a natural stone artist living in Izmir, has worked on two of the Seven Wonders of the World that are located in Turkey: the Temple or Artemis and the Mausoleum of Halicarnassus, creating them in marble to a scale of 1:40 and 1:100 respectively.
Having engaged with marble processing for 45 years, which was also his father' profession, Koroglu said that he had worked with natural stone for many years and then became interested in archaeology and fascinated with the historical texture of the Selcuk district of Izmir.
Working on famous historical and cultural heritage sites using marble and natural stone, Koroglu said his first piece was the Altar of Zeus in Bergama, which took him 27 months to complete. Speaking of his handiwork, which reduced sections of the Temple of Artemis to a 1:100 scale, Koroglu said:
"The Temple of Artemis was always considered a very important place throughout history. Before Alexander the Great arrived there, the roof of the temple was burned down by the Greek arsonist Herostratus. Alexander reconstructed the roof with marble in order to prevent this kind of destruction again. I was very excited because I lived so close to one of the Wonders of the World, and this situation led me to work on it. I completed the piece in 2.5 months. The temple is 115 meters in length and 55 meters wide. It has 127 pillars which are 18 meters high and two meters in diameter. My marble piece weighed 250 kg, and was 135 centimeters long and 67 centimeters wide."
Koroglu said that he has been working on a model of the Mausoleum of Halicarnassus for two years now, and said that a handiwork of the wonder will be completed in two months. "I am working rigorously in order to reflect the wonders faultlessly in marble. I want to process the Seven Wonders of the World in marble within the scope of project, which has been commissioned by the European Union. Then I may decide to display them in an exhibition. I am expecting support from Culture and Tourism Ministry for my work." he concluded.
Source Daily Sabah