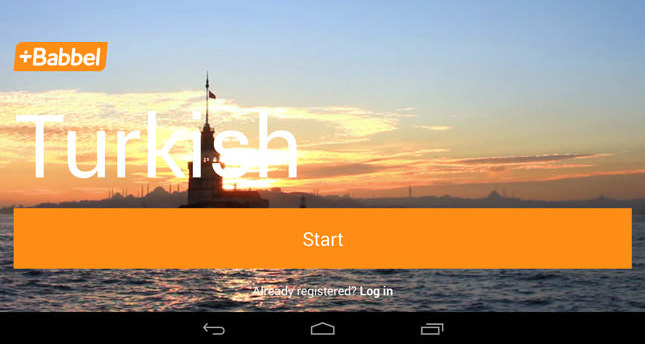 More and more people are using mobile apps to study new languages because of their ease, accessibility and freedom to determine the pace of learning.
If you are trying to learn Turkish check out the following apps so that you can practice Turkish whenever you want and whenever you have the time. We all know how hard it can be to learn a new language, but with repeated practice and exposure through a variety of different methods, such as foreign language teaching apps, it's not as hard as you think to become bilingual.
Today, there really is an app for everything and in this case, every language. We narrowed down our list of the best Turkish language teaching apps that can help expats learn Turkish fast and easy!
Busuu
Price: Free
Available for: iOS, Android and Windows Phone Busuu is a free app available in several different languages, including Turkish, which offers the unique feature of connecting learners with native speakers. After spending time learning using a database of thousands of words and key phrases, you can interact with other users to practice what you've learned. Busuu uses audio and visual techniques to learn with the aid of photos and voice. With gradually progressing through levels such as beginner, elementary, intermediate and upper intermediate, it's simple to improve your Turkish. There even is a travel course section featuring basic expressions, transportation, help for going out around the town, handling money, shopping, eating, making plans and planning accommodation. After mastering all the levels, you can even start correcting others' exercises to earn 'Busuu-berries' as well as making online friends.
Babble (Learn Turkish with Babble)
Price: Free
Available for: iOS, Android and Windows Phone Babble is a wonderful and free app for learning Turkish as well as all kinds of other interesting languages such as Polish, Indonesian and Dutch. With pronunciation tests and guides, the app ensures that you're saying the words correctly. After picking your proficiency level, you can start learning language skills that fit almost every need during a conversation. With its great design and sleek appearance, this app makes you want to continue on to the next level and keep learning.
AccelaStudy – Learn Turkish
Price: $9.99
Available for: iOS, Android and Windows Phone This app is perfect for students, travelers, executives and anyone who wants to quickly increase their fluency in Turkish. AccelaStudy helps to quickly, easily and permanently teach new words using native speaking voices for all words and features such as spaced repetition that helps you quickly memorize new words, automatic statistics that help you track your learning progress, a searchable dictionary for all vocabulary, flashcards, multiple choice quizzes, audio quizzes and a completely hands free mode that allows you to study vocabulary while driving or jogging. One other huge plus about this app is that there is no Internet connection required. So, if you're a busy bee who needs to learn on-the-go, this app is perfect for you.
Learn Turkish – Flash Cards
Price: Free
Available for: iOS and Android Designed and tested by a group of Turkish learning students, this app uses the easiest form of quick learning: Flash cards. This app helps users to go through lists and organize words based on their skill level. When a word is too difficult to remember, you can mark it to revisit it later. You can also choose from two provided options for the flash cards, random and alphabetical. Simple yet efficient, this flash cards app is perfect for all newbie Turkish learners out there.
Hangman Turkish Practice
Price: Free
Available for: iOS Hangman Turkish Practice is an app for all of you who like to learn through play. This basic hangman game is specially designed for beginner Turkish learners. While timing your win and listing your achievements, this app was developed so you can enjoy yourself and expand your Turkish vocabulary. The classic hangman game includes a countdown and it is divided into levels that will increase your excitement. You can also share you score and high rankings with friends on social media.
Learn Fundamental Turkish-Lite
Price: Free
Available for: iOS, Android and Windows Phone This interesting app describes itself by stating "This is not a dictionary. This is not a phrase book." Learn Fundamental Turkish-Lite claims that the only way to survive in a foreign land is not by studying grammar and knowing all the rules, but by having a wide range of useful travel vocabulary. They say that by downloading and using this app, you won't be the tourist flipping through a dictionary while the waiter stands and waits for your order. This app will help you memorize key words that you can mix and match for every situation. By using flashcard-based software, which is based on the principle that people remember information better when learned over several short sessions, to teach vocabulary, this useful app is helpful and easy to work with.
Memrise (Turkish)
Price: Free
Available for: iOS, Android and Windows Phone Memrise is a pocket-sized app useful for on-the-go learning. Aside from learning languages, this app also lets you learn subjects such as history, science and pop culture. While memorizing new words, you gradually expand 'your garden' and later cultivate in the part of your brain responsible for long-term memory. You can even revise your learning by 'watering' them at intervals designated by the algorithms that ensure you will retain the memories where you will be able to reach them. Again, this is one of the apps that work in offline mode.
Source Daily Sabah