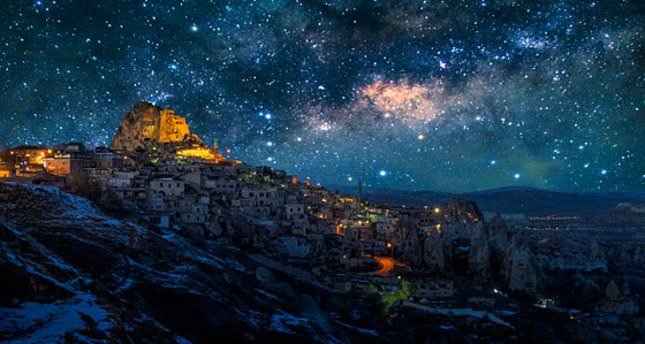 With a dizzying array of stars and constellations blanketing the night skies, Turkey, with its light pollution-free locations and clear skies, offers you the serenity of stargazing.
We often miss things around us, especially when we are too busy to pay attention. In our gloriously modern world, each of us has things to do. We work in the same place everyday. We go to the same restaurants to have lunch. We head to our homes using the closest route instead of discovering new ones. Just admit it:
The modern world is killing us a little bit everyday because it puts a great distance between the natural environment and ourselves. During the day, how many of us look up to see the clear blue sky that graces Turkey, especially during the summer? How many times do we watch birds exploring this giant world on their own or create shapes out of the clouds like we did as kids? In truth, we often forget the beauty of this world while chasing other things throughout our short lives.

The modern world also distances us further from something that we always wish for: the endless desire to explore the entire world, stepby- step. It is definitely easier now than in the past. We have airplanes, giant cruise ships, never- ending highways and fast trains. But, there is still something that has remained unsolved since ancient times. Despite all of the technology and the luxury of modernity, there is still something that piques our curiosity: space. It is the only unimpeachable challenge, the "final frontier." It is the only unconquerable destination for today's hardcore travelers who have used all the means of transport in the modern world. With its unfathomable vastness and fascinating views, space alone is spared from the influx of tourists (though, not for long).

Stargazing has been accepted as a new, breaking form of tourism – traveling not for the sun, sand or beach, but for the sky. Described as "dark sky tourism," Turkey offers many places free from light pollution to feel the magic of a dizzying array of stars and constellations blanketing the night skies. This new fascination gets you away from nightclubs and crowded beaches and takes you to the secluded beaches and mountainsides of Turkey. When stargazing in Turkey, bring some water, blankets, chairs or mats with you. You may also want to take a flashlight just in case and of course, a telescope if you have one. After all, this unconquered vastness has much to offer us including the serenity of stargazing when you find a place free of light pollution.
Source Daily Sabah